The first in the world fully autonomous navigation with a containership was completed by a Japanese containership. The trial-voyage took place on January 24 and 25, 2022 departing from Tsuruga on the Sea of Japan and traveling approximately 161 nautical miles to the Sakai port near Osaka. The unmanned port-to-port, including docking and undocking, voyage of The Mitsui Group is part of on-going demonstration program sponsored by The Nippon Foundation for autonomous shipping development.
Mitsui O.S.K. Lines conducted the containership trial with a 313 feet long, seven-year-old coastal containership, with a carrying capacity of 194 TEU and operated by Imoto Lines. The ship used a system developed by Mitsui E&S Shipbuilding which monitored the operations of a pre-designed route for the unmanned voyage. The algorithm took into account all data – accurate location, external elements such as wind, tides, currents, together with the specific ship data of its configuration, maneuverability and ability to accelerate and decelerate. Furuno Electric created an autonomous system that provided information on the location of other ships and obstacles in the vicinity of the vessel by integrating radar, camera images and AIS data.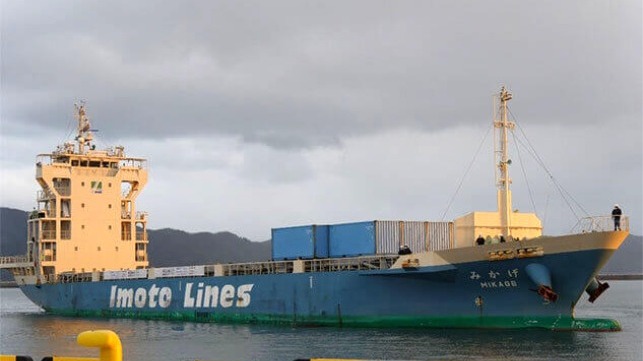 That was the first ever test-voyage which included autonomous mooring operations combined with drone usage. The autonomous berthing and unberthing, which requires especially delicate handling from crew members during the docking operations, which includes also passing lines from ship to shore to tie-up the vessel, was one of the most difficult parts of the voyage. Furuno Electric developed a system of support sensors which by using data from LiDAR, cameras and a satellite compass calculated and visually displayed the relative distances and angles between the pier and the hull of the ship. A.L.I. Technologies developed the mooring support technology, which even used drones to carry the line to the pier.
Mitsui's project entails sea tests with two different types of ships – container and ferry, in order to identify similarities and differences in their navigation and increase the technology's versatility. The project's goal is to use autonomous navigation systems to address issues such as improved safety, reduced crew labor and costs.